Dental Implants Durham, NC
At Thomas Clifton, DDS, we are committed to providing the highest quality care to the patients we serve. Our practice offers a comprehensive range of dental so our patients can receive all of their treatment under one roof. Dr. Clifton offers advanced care with dental implants designed to restore your natural-looking, beautiful smile. If you have questions about dental implants or would like to find out if you're a candidate, please contact our office today.
Healthy Smiles at Thomas Clifton, DDS
Using dental implants, Dr. Clifton helps patients with missing teeth restore their smiles. Dental implants are a very effective, permanent solution for replacing missing teeth.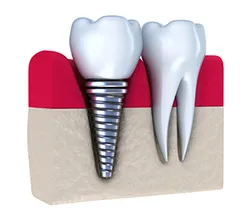 Dental implants are truly remarkable in terms of what they've done for modern dentistry. A dental implant is an artificial tooth root that replaces a natural tooth root that has been lost or extracted and serves as a foundation on which to place a dental crown. The result is a natural feel, function, and look for a healthy restored smile you can be proud to show off.
Unlike dentures, dental implants are designed to become a permanent part of your mouth where there is no possibility of slippage or movement. Dental implants are custom-designed to improve both the form and function of your teeth with very natural-looking results.
Dental Implant Procedure
The procedure to place a dental implant is straightforward. The implant, which is made of titanium, is placed into the jawbone to serve as a substitute for the tooth root. An abutment is then placed on the dental implant to connect the implant to the new crown or artificial tooth top. To finish the procedure, the replacement crown that matches your natural teeth will be placed on the implant.
Post Implant Care
While maintaining good oral hygiene is important for everyone, it is especially important for patients that have received dental implants. If good oral hygiene is not maintained, bacteria can build up in the mouth causing gum disease and jawbone recession. If the jawbone does recede, a dental implant can weaken to the point where it will have to be removed. Therefore, to help maintain your dental implants, we recommend visiting Dr. Clifton office every 6 months for a regular checkup and cleaning. When properly cared for, dental implants can last for decades.
Interested in finding out if dental implants are right for you? Call our Durham, NC office today at (919) 471-2422 to schedule an appointment! Dr. Thomas Clifton DDS will evaluate the condition of your gums and bones around your teeth to determine if you are a good candidate for implants.